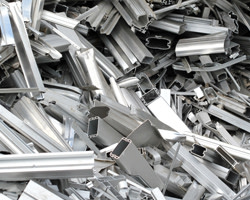 Aluminum recycling is one of the most efficient forms of recycling. Why? Because recycling aluminum uses about 95% less energy than producing aluminum from natural resources. At Metro Metal Recycling, we're proud to be an active participant in the effort to maintain "closed-loop" aluminum recycling. By providing an attractive exchange rate for your aluminum scrap, we're helping to support sustainability and reduce the demand for raw materials.
Metro Metal Recycling serves as an Albany-area collection center for all kinds of aluminum scrap, from cookie sheets to ladders and laptops. If you're looking for a competitive aluminum scrap price and no-strings cash payment, look no further than our local aluminum recyclers. We pay cash for your aluminum scrap metal.
For the most up-to-date information on our aluminum scrap price, feel free to call or e-mail us. We offer free estimates on aluminum recycling right over the phone or Internet!