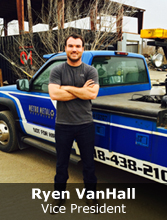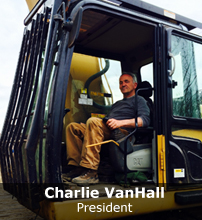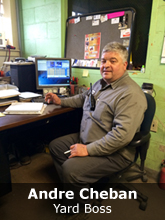 Ryen VanHall, Metro Metal Recycling's vice president, began his career in 2001 when he started working in his father's scrap yard. After studying at the University at Albany, SUNY, and working full time, he moved up the ranks to the position of vice president. Now, Ryen can usually be spotted around the Capital Region in his blue tow truck helping locals get rid of their old junk cars.
President Charlie VanHall has been in the scrap metal industry for 42 years. In addition to having an MBA from Rensselaer Polytechnic Institute, Charlie is also a former U.S. Marine and graduate of the U.S. Army Ranger School. As the founder of Metro Metal Recycling, he has been the driving force behind the company's push to become the area's top destination for convenience, customer service, and fantastic deals.
Andre Cheban is the manager of Metro Metal Recycling's main scrap yard in Watervliet. He started at the company as a reliable commercial truck driver, and he now manages the Watervliet yard with the utmost integrity and professionalism. All loyal customers know that they can count on Andre for total honesty and an admirable work ethic when it comes to recycling and selling their scrap metal.