It can be expensive to replace worn-out household appliances. So rather than trashing that broken-down oven or dishwasher, why not bring it to Metro Metal Recycling instead? Thanks to our Albany-area appliance recyclers, you can get cash for your trash, including fridges, dryers, washers, and more. To find out how much your old appliances are worth, give us a call today. We offer great prices for appliances recycling!
Even though a junk appliance doesn't have much value to you, at Metro Metal Recycling, we'll bring you great value in cash. As one of the Albany region's most experienced scrap metal companies, we pay fairly and immediately for recycled appliances, regardless of condition or quantity. Whether you're replacing a single unit or redoing an entire kitchen, recycling appliances is a great way to keep equipment out of the landfill and put money in your pocket. When you're looking for somewhere to recycle appliances, we're just a short drive away!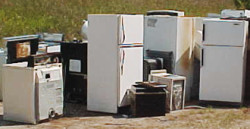 Get cash quick for your recycled appliances. At Metro Metal Recycling, we're here for all kinds of appliance recycle services, including:
Washing machine recycling
Clothes dryer recycling
Dishwasher recycling
Oven and stove recycling
Freezer recycling
Lawn mower recycling
And more!
These days, you often have to fork over extra to have your bulky trash items taken away. But with appliance recycle service from Metro Metal Recycling, you're the one who gets paid, right on the spot in cold, hard cash! Why let your municipal waste collectors profit from your used appliances? Both you and the environment can benefit when you recycle appliances with us.
We Pay More for Recycled Appliances!
Since opening our doors in 2000, Metro Metal Recycling has provided an honest means of recycling appliances for local residents. Instead of paying trash haulers to get rid of your old appliances, you can come see our appliance recyclers for a fair and square price on your scrap metal. We are fully insured to recycle used appliances, and our scales are operated by licensed New York State certified weighmasters. That means you get to watch as your items are accurately weighed, and you never have to wait for payment. Home appliance recycling doesn't get any easier than that. Stop by and see us today!
Have questions about recycling appliances for money? Simply call or e-mail Metro Metal Recycling now.