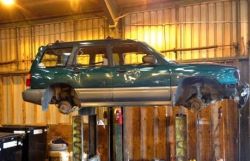 Once a vehicle has logged its last mile, you don't want it parked on your property taking up space. The answer is junk car pickup for cash from Metro Metal Recycling. With our unbelievable $60 rate on local towing, we offer the lowest price in Albany for junk cars removal. Plus, we'll pay you cash up front when we pick up junk cars for vehicle disposal, so you can deduct the towing fee right out of your cash payment. That way, you can put your beat-up clunker behind you, and come out way ahead. Contact us today for our junk car removal service!
To understand the real value of our junk cars removal, all you have to do is the math. Since the average car weighs more than 3,000 lbs., that's nearly two tons of scrap metal sitting idle in your driveway. At Metro Metal Recycling, we pay hundreds of dollars per ton when we pick up your junk cars, resulting in a decent sum when your vehicle disposal is all said and done. You'll have more room in your garage, and more money in your pocket. Simple as that!
Environmentally Friendly Junk Car Processing
Unlike many vehicle disposal companies, Metro Metal Recycling is committed to environmentally friendly solutions when it comes to your junk car. We're all about recycling not just the metal, but everything else that can be removed and reprocessed. We use special equipment to safely drain all fluids for recycling. That means we don't waste any part of your junk cars, from the tires to the fluids. In short, you're not just making a few bucks, you're helping the environment, too!
Quick Cash for Junk Cars
Metro Metal Recycling is an established, respected junk car removal service. As such, we're able to offer a premium price for your automotive scrap metal. Wherever you reside in the Capital Region, you won't find a better deal on junk cars removal than our Albany-area family-owned company.
In addition to big cash incentives, junk car removals from Metro Metal Recycling are also beneficial for your home and health. No one wants an old, broken-down rust bucket just hanging around. When we pick up junk cars and haul them away from your property, you have the added advantages of: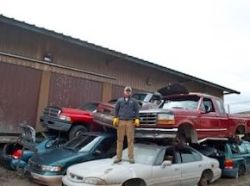 Improved curb appeal
Extra parking space
Safer, cleaner surroundings
And more!
Any way you look at it, junk car pickup for cash is a win-win solution for vehicles that have taken their final road trip. Whether you're ready to unload a car, truck, van, or SUV, just get on the phone and call Metro Metal Recycling, your local team for low-cost towing and top dollar vehicle disposal. We accept clunkers in any condition, and pay you outright to take them away!
Take a minute now to arrange your junk car removal service: Just call or e-mail Metro Metal Recycling today for easy cash tomorrow.
Please note: scrap metal and towing prices are subject to change without notice. Call for our current rates on junk cars disposal.