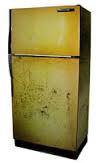 Do you have a worthless refrigerator that's headed for the appliance graveyard? If so, it's time to take a detour to Metro Metal Recycling. As it turns out, that old, broken refrigerator isn't so worthless after all. In fact, we recycle refrigerators in the Albany area, and pay you right there and then in cash for the scrap metal value of your fridge. Want to hear more about our refrigerator recycling? Just reach us today by phone or e-mail!
It's not unusual to have a big, bulky refrigerator sitting around collecting dust. Maybe you pulled the plug on a second fridge or recently upgraded to a new, spiffier model. Whatever the reason you need refrigerator recycling, Metro Metal Recycling is the place to go. We pay top dollar for your scrap metal, making us a lucrative choice for your refrigerator recycling center. We also work hard to be an environmentally responsible local company, recycling refrigerators piece by piece so they don't end up tossed in a nearby landfill.
It Pays to Recycle Refrigerators
When it comes to recycling home appliances, the heavier the unit, the bigger the payout. That's what makes residential refrigerator recycling such a smart use of your time. Even though your fridge is no longer running, it's still worth its weight in terms of scrap metal. So do what's best for your pocketbook and the planet at the same time: Load up that dusty fridge, along with any other broken appliances you happen to have scattered about, and bring them all over to Metro Metal Recycling. We're your refrigerator recycle destination for quick cash, great rates, and eco-friendly service. Stop in and see us today!