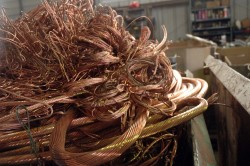 Widely used in manufacturing, copper can be found in all kinds of everyday products from car motors to electrical wires to plumbing pipes. As the demand for copper has increased, so has the need for copper recycling. In the Albany area, you can count on Metro Metal Recycling to give you a great rate on scrap metal copper, including copper wire scrap. We pay cash for copper, so if you have wire, plumbing, or even old copper pots you don't want anymore, we can transform that trash into treasure. If you have questions about our copper wire recycling, don't hesitate to call our local recycling center now!
With copper recycling, none of the chemical or physical properties of the metal are lost during the process. That's what allows copper wire scrap and scrap metal copper to retain its value regardless of its original product form. No matter how badly damaged your vehicle or pipes are, you can still expect excellent scrap metal prices on copper from Metro Metal Recycling. Even if your scrap copper wire is unstripped, we'll pay generously for your copper wire recycling.
For a free estimate on what your copper wire scrap is worth, reach us by phone or e-mail. While we can't give you an exact amount until we actually weigh your scrap copper wire, we can give you a ballpark figure. Call our copper recyclers today!