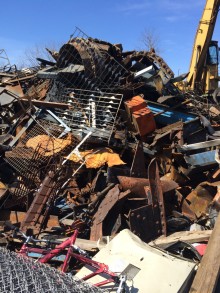 With its vast range of functions, steel scrap plays a major role in the global recycling industry. As one of the world's strongest materials, steel is used to make everything from bridges and buildings to appliances and automobiles. Checking around your home, you're likely to spot a number of odds and ends suitable for steel scrap recycling. Why not visit Metro Metal Recycling today, and turn your steel scrap trash into cold, hard cash?
At Metro Metal Recycling, you'll find some of the highest steel scrap prices in the entire Albany area. Whether you're recycling steel from fences, cars, tools, or refrigerators, we'll make sure your total value is precisely weighed and quickly paid. Isn't it nice to know your stainless steel appliances or old water heater will continue to pay you back in steel scrap even after they've finished running? Come in and see us today so we can recycle steel from your personal belongings and give you a fair price in return.
Do your part for the environment: Make us your Albany-area resource for recycling steel. We specialize in safe, eco-friendly services at competitive steel scrap prices. Stop by and try us soon! We pay cash!